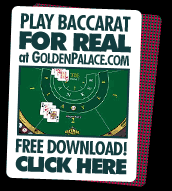 Baccarat Tips
Here are some free baccarat tips for you. You will find that these baccarat tips and tricks are essential to being successful at this beautiful game. Although you will not find any tricks really on this site, you will find some baccarat tips that should increase your odds of winning at baccarat.

Tip 1 - be the more conservative player, not the high risk gambler. For example, when betting on a tie, although the payout may be quite appealing, I recommend that you stay away from this bet, as the odds are very slim and you are better off betting for or against the player or banker.



Tip 2 - keep track of your winning hands when you bet on the banker. The house takes a 5% commission on winning hands on the banker. You will want to keep track of this, as you do not pay this until the very end of your play / game session. It wouldn't be too cool to be leaving the table without any money and still owe the house money!

Tip 3 - don't try to ride streaks. Although you may be inclined to bet on a streak, you are more likely to lose than to be able to ride on that streak.
Tip 4 - If you must bet on a hand, I definitely you should bet in favor of the house. We all know the casinos are there to make money. So why not bet in the favor they are banking on? I figure that is a good way you could have your own little edge.

More baccarat tips coming soon, stay tuned!